3.4 Maitrik dynasty of VallabhiPura
The famous town of VallabhiPura or ballabhi was founded by the 17th Ruler of western Kshatrapa Dynasty named Vijayasena (238-250 AD).
Maitrik Dynasty was established at VallabhiPura by Senapati Bhattarak in around 470 CE. There is a strong possibility that Maitrikas, who were ruling as feudatories to Guptas and later to Yasodharman were of Saka (Kshatrapa) origin. The territory they ruled and their names also support this fact very much.
Bhattarak was the army chieftain of Yashodharman. This Maitrik dynasty was the branch of Kushans only. Maitrikas made their capital at Ballabhi or VallabhiPura. Bhattaraka was succeeded by his son Dharasena (I), both of them called themselves Senapatis. Then came Dharasena's younger brother Dronasimha, the first of maitrikas to use the title Maharaja or KING. His younger brother was Dhruvsena (I), who in turn was followed by his younger brother Dharapatta. These five kings ruled for a short span of time (hardly 30 years).
Next Maitrik ruler, Dharapatta's son, namely Guhasena ruled till 524 AD.
(Here we find the foundation of Guhila dynasty which played an important role in Indian history)
King Nasirban of Persia (Full name was Naushervan-E-Adil) invaded Gujarat in 524 AD, Guhasena Died during war, his pregnant queen, Pushpavati, was on a pilgrimage to northern parts (Idar district, better known as Mewar). On receiving the news, Pushpavati went into hiding in the wilderness of the idar district. There she was said to have given birth to a son Guhil or Guhaditya (named after his father) who founded the Royal Guhilot family in 569 AD.
However VallabhiPura was later recovered by Dharasena-II (571-572).
Dharasena-II was succeeded by his son Siladitya-I Dharmaditya. He ruled between 606 AD and 612 AD, covered an extensive territory. His was the most powerful kingdom in Western India. Siladitya was succeeded by his younger Brother Kharagrha-I, Kharagraha was succeded by his son Dharasena-III who annexed Gujarat to his territory. A successor of hasty temper, Dhruvasena-II Baladitya, the younger brother of Dharasena-III ruled till 641 AD. Second somnath temple was built by next ruler Dharasena-IV in 649 AD, Who used the titles like Paramabhattâraka, Mahârâjâdhirâja, Paramęshvara, and Chakravarti. There was a lot of trouble after the death of Dharasena-IV, but was only restored during the next ruler Dęrabhata who was the son's son of the illustrious Shîlâditya (I.), who was the (elder) brother of his father's father (Kharagraha I.). The successor of Derabhata was his brother Kharagraha-II Dharmaditya. After him his brother Siladitya-II (662-684 AD) ascended to the throne. His son was the Paramabhattâraka, Mahârâjâdhirâja, and Paramęshvara, the glorious Shîlâdityadęva (III) or Siladitya-III, Who assumed an imperial title and conquered Gurjars of Rajasthan and Malwa. His successors were Shîlâdityadęva-IV, Shîlâdityadęva -V and Shîlâdityadęva-VI, Dhrubhata, Shîlâdityadęva (VII). Shîlâdityadęva (VII) who ruled till 766-767 AD was probably the last ruler in the maitrika's line. After that the town of Vallbhai was sacked by Arabians and ruling family (The Maitrikas) came to an end.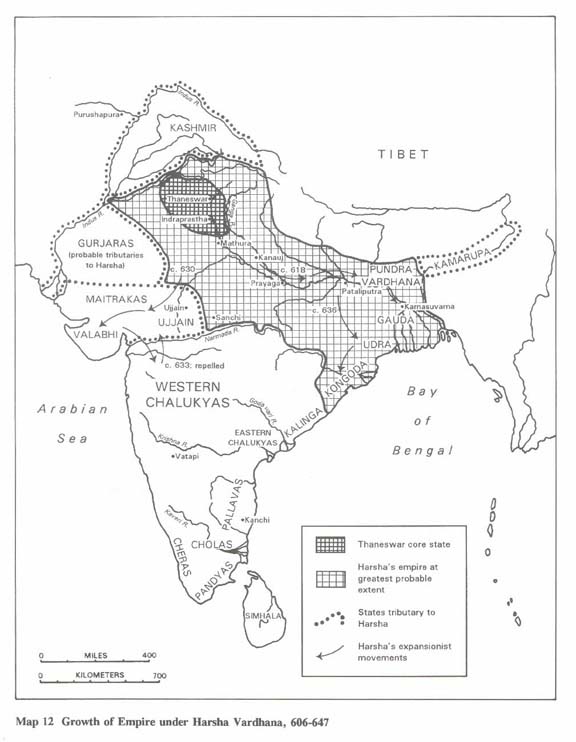 Map 3.1 Map shows the Gurjar Kingdom of Ballabhi along with Harsha of thaneshwar and Gurjar Kingdoms of Rajasthan.
3. 5 The rise and growth of the feudatories of Maitrikas
Pratihars (1st Branch, Ruled Nandol, 650 to 815 AD),
Chaulukyas
Chawras and
Rashtrakutas
The rise of these feudatories was a serious menace to Vallabhi and was partially the cause for its end.
Although, Dadda (Ruler of Nandol) was a friend and relative of Maitrikas, but Dadda-III, who for unknown reasons, became hostile and wrestled baroach from Maitrikas.
3.6 After the fall of Vallabhi,
Southern 'Gurjardesa' was ruled by various dynasties, at the same time.
Other dynasties
Saindhvas
Jethvas
Sama
Chauhan
Rastrakutas
While the northern portion (Today's Rajasthan) was being ruled by
Pratihars of Jodhpur (2nd Branch, Ruled Mandor 550-731 AD)
Guhils of Mewar (Offshoots of Maitrika) (After 569 AD)
Moris of Hadoti (eastern Mevar and parts), off shoots of parmar.
Chapas or Chapotkats or Chawdas of Bhinmal (Yasodharman's succesors)
Chauhan's of Sambhar or Shakambhari (Ruled Ajmer)
Parmars